6 Breathtaking Kerala Waterfalls You Must Visit
Refreshing, captivating and astounding, Kerala waterfalls are truly the best display of nature's art. 'God's Own Country' is home to around 27 impressive waterfalls. From offering exciting adventure experiences to being ideal picnic spots, these majestic waterfalls of Kerala invoke a deep sense of adventure in you.
Here is a list featuring the top Kerala waterfalls you simply cannot miss:
1. Athirapally Waterfalls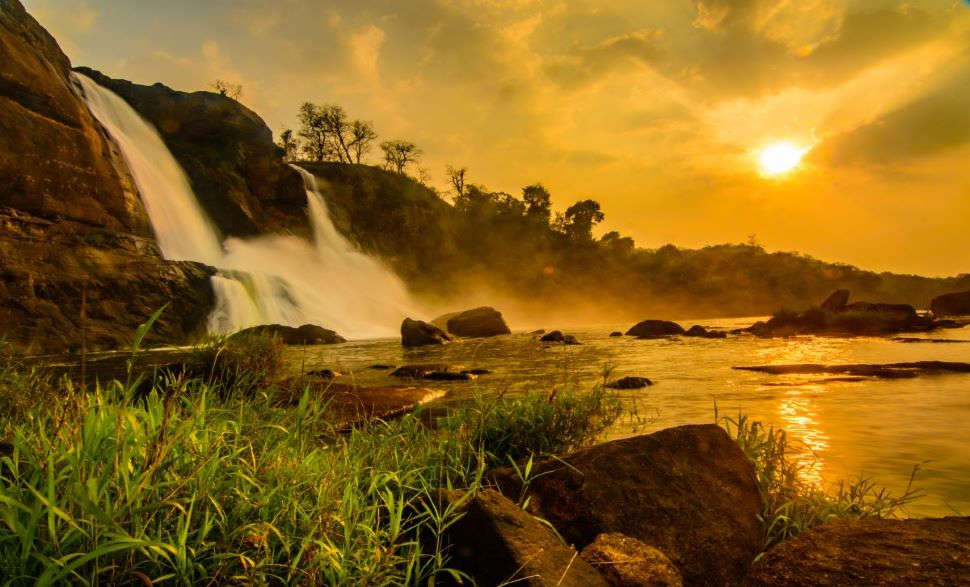 Athirapally Waterfalls is situated in Thrissur district, 86 km from Kochi or Kozhikode. It is one of the best places to visit in Kerala. Falling from a height of 25 m, it is also famed as the largest waterfall in the state. Athirapally Falls is surrounded by lush forests with abundant wildlife and numerous trails. Its magnificent location and unparalleled beauty make it the number one spot among the best Kerala waterfalls. The months between September and January are considered to be the best time to witness the majestic Athirapally Waterfalls.
How to reach: Tourists can board a direct bus or a private vehicle to Athirapally Waterfalls from Thrissur (60 km), Chalakudy (31.2 km) or Kochi.
2. Vazhachal Waterfalls
Of all the popular destinations in Kerala, one that steals the limelight is Vazhachal Waterfalls. Barely 5 km from Athirapally, this spectacular, 120 m high waterfall serves as a great picnic spot for vacationers, wildlife enthusiasts and nature lovers. Set amidst picturesque landscapes offering rich natural views, the Vazhachal Waterfalls looks its best after the monsoon bids adieu. Therefore, tourists are advised to visit the place between September and February.
How to reach: Vazhachal Waterfalls is well connected by road to the major towns of Kerala, including Kochi (91 km) and Thrissur (66 km). Alternatively, tourists can also avail private/public transport to reach the spot.
Read More: 8 Reasons Why Monsoon Is the Best Time to Visit Kerala
3. Soochipara Waterfalls
Soochipara Waterfalls is one of the most attractive waterfalls in Kerala. It is also popular as the Sentinel Rock Waterfalls. At a height of 200 m, it is located in Wayanad district, 43 km from Sulthan Bathery and 23 km from Kalpetta. Soochipara Waterfalls is a renowned adventure spot among travellers, as it is famous for activities like trekking and rock climbing. The ideal time to visit the Soochipara Falls is between June and October. There are also a number of attractions located close to the waterfall, including Vaduvanchaal, Chembra Peak and Kanthapara falls.
How to reach: To reach Soochipara Waterfalls, one can take public/private transport to a common point located close to the waterfalls and enjoy a walk from there. You can also drive your own vehicle to Soochipara Waterfalls.
4. Meenmutty Waterfalls
One of the best places to visit in Kerala is Meenmutty Waterfalls, cascading from a great height of 300 m. The breathtakingly beautiful waterfall in Wayanad lies within a forest, where huge numbers of tourists come seeking peace. Meenmutty Waterfall has a 3 km trail suitable for trekking. The rocky terrain also provides a spectacular view of the Banasura Sagar Dam across River Karamanathodu, which happens to be India's largest earth dam. The place is ideal for a day trip. Winter and spring, usually lasting from October to May, are the best seasons to visit Meenmutty Falls.
How to reach: Meenmutty Waterfalls can be reached via road from Kalpetta (47 km) and Sulthan Bathery (23 km).
5. Thoovanam Waterfalls
Located within the Chinnar Wildlife Sanctuary, Thoovanam Waterfalls in Idukki district is one of the most spectacular Kerala waterfalls. The serene and wonderful views of the surroundings inside the forest are a remarkable sight. A trekking trail winding through the forest takes you to the waterfall. You should ideally visit the Thoovanam Falls during the post-monsoon months. It is indeed a major vacation spot in Kerala and you should definitely not miss it.
How to reach: One can reach Thoovanam Waterfalls by trekking 4 km from Alampetty Checkpost located on Udulmapet-Munnar Highway. It is also connected by bus from Munnar.
Read More: 10 Free Things to Do in Kerala
6. Lakkam Waterfalls
Located 24 km from Munnar, Lakkam is undoubtedly one of the most visited waterfalls in Kerala. It flows down a steep hill gushing over the rocks. You can plunge your toes in the crystal-clear waters as you spend a leisurely time or take a dip in the pool to refresh your mind. Some of the best places to visit in Kerala lying close to Lakkam Waterfalls are the Marayoor Dolmens and Eravikulam National Park. The best time to visit this spot is between the months of October to January.
How to reach: Lakkam Waterfalls is reachable from Munnar town via road.